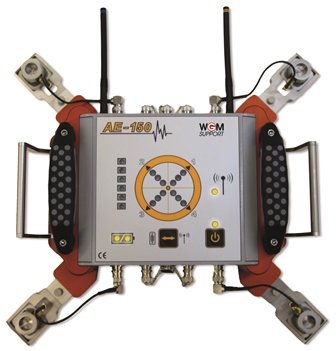 The MAE-150 partial discharge meter is designed to detect and localize Partial Discharge activity by correlating acoustic and electric sensors' data. The MAE-150 has many acquisition modes, each used for detecting and locating Partial Discharge activity in a transformer. The MAE-150 unit is mounted on the transformer tank using its powerful magnets that also hold four acoustic sensors. Acquired data is sent to Mirador-Tx software where all advanced positioning functions are implemented.
This cutting-edge software allows easy data interpretation, reporting and monitoring. The MAE-150 is a portable partial discharge meter device. The MAE-150 detects and localizes partial discharges & hot spots in power transformers. It does this by analyzing ultrasonic waves and thus provides an overview of the damage to the electrical insulation. In transmission and distribution stations the application and operation of a power transformer is a sensitive matter. The loss of a transformer can have great financial consequences. In order to protect your investment, it is of major importance to detect a partial discharge at an early stage. The MAE-150 is used to detect and localize partial discharge faults in transformers. A key feature of the MAE-150 is the ability to synchronize acoustic emission signals with the electrical partial discharge signal.
Unmatched Effectiveness and Ease of Use The MAE-150 is perfectly suited for field (weatherproof) and lab operatio. The Highlights from MAE-150 are Reduces Downtime & Repair Delays, 3D Positioning of PD Activity, Auto-Vectoring and Pinpointing, Quick Localization & Monitoring Modes, Comprehensible Mirador-TX™ Software, No need to de-energize the transformer, Wireless Sync & Communication, Standard and Impulse sensors available.