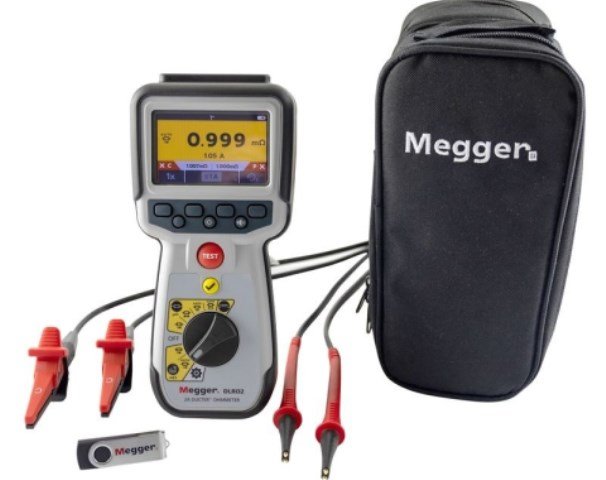 The Micro Ohm Meter DLRO2 is a rugged, portable 2 A micro ohm meter. It delivers fast, accurate and repeatable measurements – even in locations full of electrical noise. The DLRO2 joins a host of products that proudly carry the Ducter™ brand as the latest addition. Ducter™ testers are as well known and proven as Megger insulation resistance testers. Users in the power supply sector or industry get a high level of safety thanks to CAT III-600 V/CAT IV-300 V in accordance with IEC61010. In addition, the device is equipped with self-protection in case of accidental connection up to 600 V without tripping a fuse.
This saves valuable time that would otherwise be spent repairing or obtaining a replacement fuse. When working outdoors, IP54 protection ensures that neither rain nor dust will prevent testing. The DLRO2 is at home in a wide variety of applications, measuring low-resistance values on railroads and aircraft as well as industrial components. Thanks to dedicated long test leads to optimize output, even applications where long test leads are required are no problem for the DLRO2. The long test lead feature delivers up to 1 A of test current into 4 ohms of resistance.
This makes the DLRO2, with its optional test leads on cable reels, the ideal instrument for testing wind turbines and aircraft lightning protection applications. For testing smaller inductive loads, the DLRO2 can apply 2 A for at least 15 seconds, made possible by the integrated high-capacity batteries and a separate inductive load function. The batteries can be fully charged within 2.5 hours, minimizing downtime. Note: The DLRO2 is not intrinsically safe/ ATEX certified and must not be used in explosive environments.
We are happy to advise you on the topic: Microohm Test Equipment | Low Ohm Measurement | Micro Ohm Meter