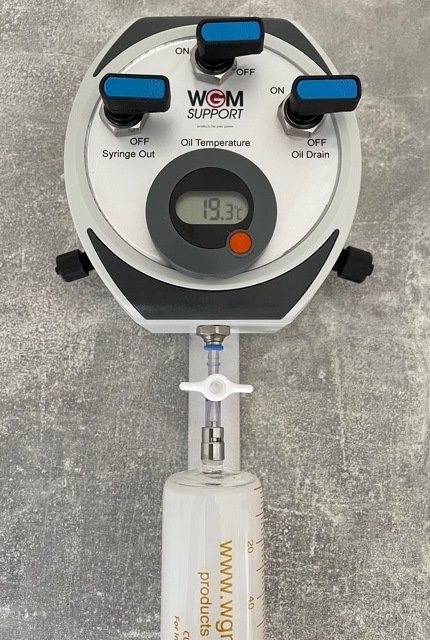 DÖPEV – the display oil sampling device with a twist for oil sampling according to DIN EN 60475 (VDE 0370-3).
Failures due to faulty transformer oil analysis can lead to negative and detrimental developments. They can evidently have serious effects on the power supply and the service life of the transformer. Sampling the oil from oil-filled transformers in operation is an efficient method for determining the condition of the solid and oil insulation. In addition to that, it provides information about the operating condition of the transformer.
And it does so without having to open or deactivate the transformer. Improper oil sampling or contamination can have an immense influence on the measured values of the individual test methods. Ultimately, this can lead to false conclusions about the quality of the insulating liquids. To ensure consistent performance and long transformer life, regular oil testing in installations is essential.
Taking oil samples without contamination
The overall aim is to remove the oil from a transformer without contamination. To further carry out an oil test in the laboratory and analyse the sample. Your result of the "gas in oil analysis" or the other "dielectric measurement methods" can only be as good as you have taken your oil sample. With the new oil sampling system DÖPEV you take the oil sample free of contamination. As well as according to the standard and without contact with the outside air.
ÖPEV-k and DÖPEV: undoubtedly the perfect oil analysis set
These periodic examinations are generally an important part of the maintenance of transformers for a safe power supply. Not only the sampling, but also the handling of the oil sample plays a major role. Sampling and handling are made very easy and effective with the ÖPEV-k and the DÖPEV. Basically, this allows you to carry out an insulating oil test in no time at all. The ÖPEV-k oil sampling device guarantees absolute ease of use for safe oil sampling from oil-filled transformers. In combination with the DÖPEV display oil sampling device, oil sampling becomes even easier.
By means of three ball valves on the DÖPEV you can regulate the oil sample. Furthermore, you can constantly control the temperature of the oil. The oil analysis device DÖPEV can be connected to the oil drain device ÖPEV-k and creates the perfect oil analysis set. With this set you can take the oil sample from the transformer comfortably and contamination-free. And in the next step, transport it to the oil test in the laboratory.​
We offer you advice on the topics: Insulating oil sample | Oil testing | Oil analysis device