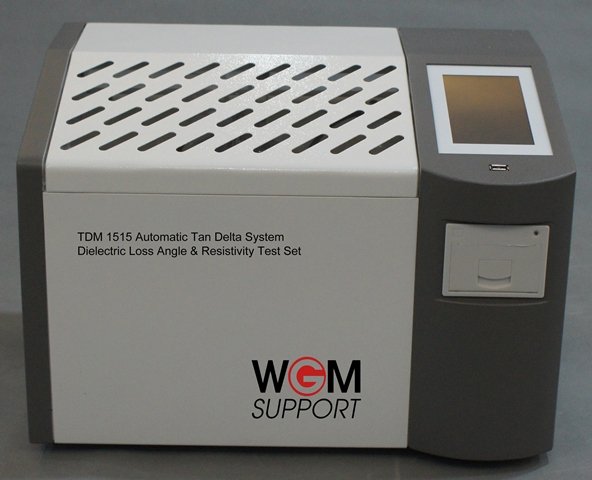 Tan Delta Meter | Tan Delta Measurement: The Tan Delta Measuring Bridge TDM1515 automatically measures the dielectric loss factor and resistivity of transformer oil, insulating fluids and other insulating materials. The measured value gives an indication of the amount of loss in the insulating fluid during operation. The TDM1515 is a precision instrument for tangent delta measurement of transformer oil. The resistance, the dissipation factor and the capacity of the insulating oil are measured.
The specific resistance is automatically calculated from the measured values. As a stand-alone solution the TDM1515 is a closed unit with integrated oil test cell. The features of the dielectric loss factor measuring bridge are High frequency induction heating with controller, temperature sensor, measuring bridge, AC test voltage source, standard capacitor, DC test DC voltage source and digital IC circuits. The Tan Delta Bridge Model TDM1515 is a precision measuring device. The resistance, dissipation factor and capacitance of the insulating oil are measured. The specific resistance is automatically calculated from the measured values. A great advantage is the high-frequency induction heating, which is an essential part of this instrument. The non-contact heater heats the oil test cell homogeneously at high speed and with a comfortable control. The oil test cell is emptied via a built-in drain, i.e. without dismantling the oil test cell.
In AC test mode, a conversion mode AC-DC-AC is applied, thus avoiding the problem of voltage and frequency fluctuations. Even if the voltage generator is working, the unit is still working properly. Inside is a standard SF6 three-pole capacitor, whose dielectric loss and capacitance is not affected by temperature and humidity. This ensures the accuracy of the instrument and long-term use.
We offer you advice on the following topics: Tan Delta Meter | Dielectric Dissipation Factor | Transformer Oil